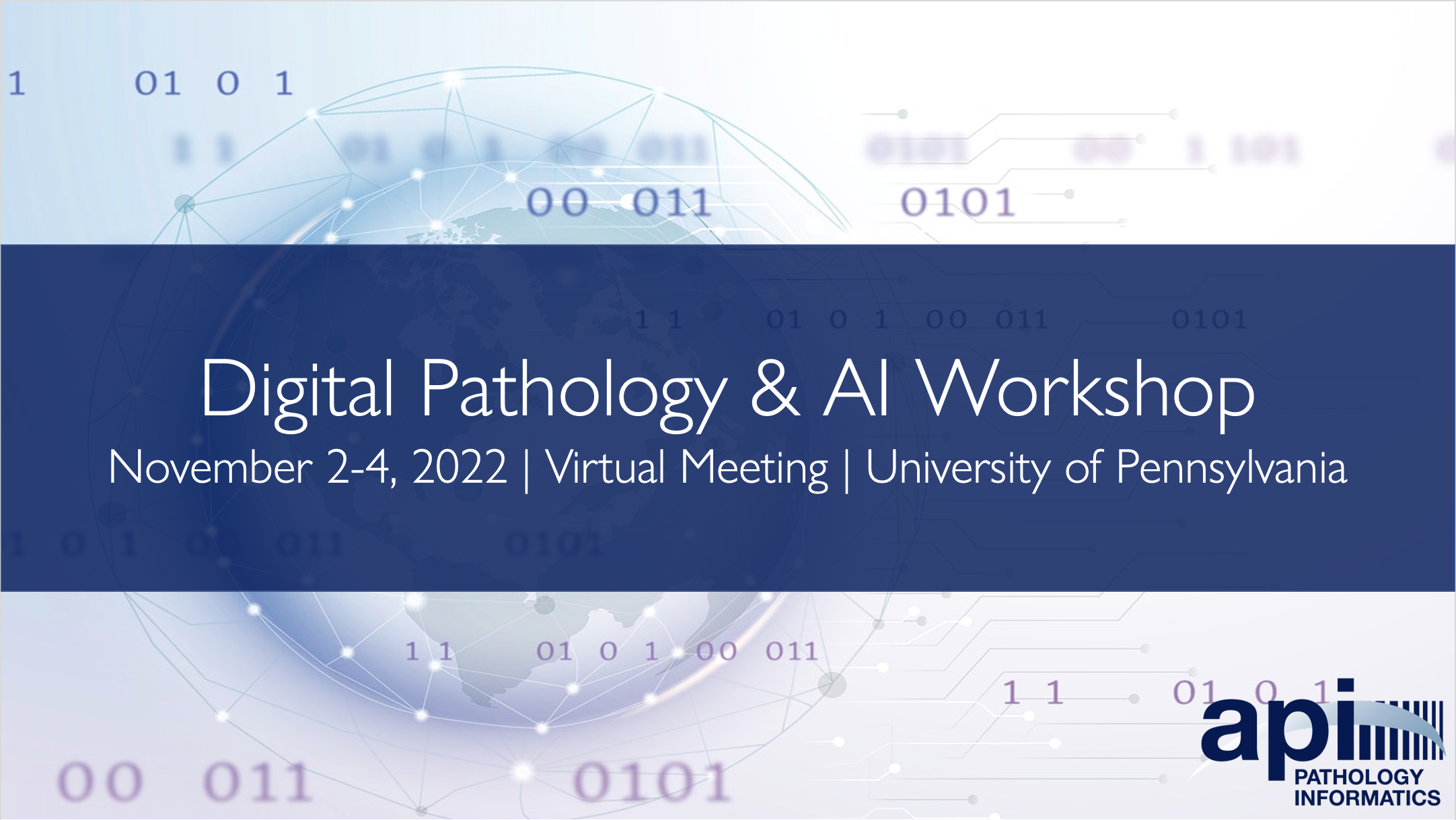 API is excited to announce a unique confluence of different laboratory implementations of digital pathology. 
This 3-day virtual workshop will take place over three consecutive days and feature distinguished faculty representatives from:
---
The University of Pennsylvania
Memorial Sloan Kettering Cancer Center
The Ohio State University
University of California, San Francisco
Four Platinum Vendor Presentations
---
Each daily session is 5 hours and will emphasize the practical considerations for digital pathology and AI relevant to registrants' home practices. There are a total of twelve 45-minute lectures by national and international experts punctuated by 15 minutes of audience engagement with Q and A sessions.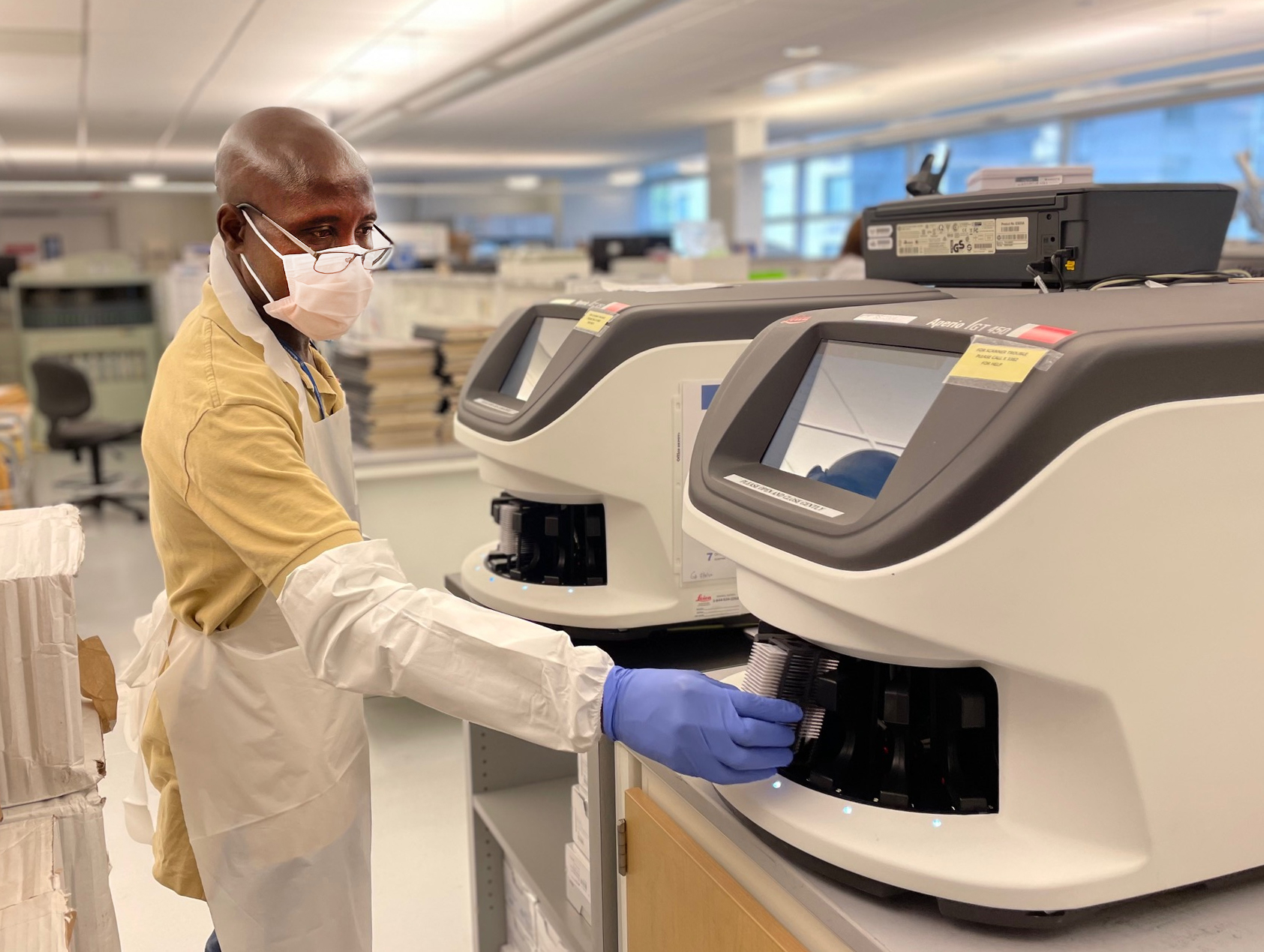 Photo Courtesy Memorial Sloan Kettering Cancer Center
Engaged registrants will have a keen interest in deploying digital pathology systems in their home practices. By the completion of the workshop, they will understand a broad range of practical ideas on how to accomplish this goal rapidly. 


Understand the directions for digital pathology and AI from a domestic U.S. and international perspective, given the advances in technology advances, market shifts, regulatory changes, and transformation in pathology culture

Deploy digital pathology for registrants' home practices, including operational considerations for remote sign-out, optimization of surgical pathology workflows, and information system integration

Understand the AI basics, touchpoints of digital pathology and AI, and future possibilities for AI
At the end of this activity, participants will be able to assess their own laboratory and/or pathology practice's readiness to implement artificial intelligence, including how to evaluate and implement the different digital pathology and AI solutions on the market. They will also learn how to create the proper business case for digital pathology and AI for their own laboratory/practice, with the ultimate goal of being to apply this knowledge in order to stand up a digital pathology-enabled laboratory at their own sites.

API will make these recordings available within 24 HOURS for registered attendees!
Each of the three sessions will include a separate Zoom meeting link to provide registrants the opportunity to interact with industry representatives to learn more about their respective industry products and solutions.
---
REGISTRATION FEES

 API Member: $399
API Trainee Member: $139
Non-Member: $499
Non-Member Trainee: $179
**Group rates taken off member and non-member prices: 3-5 10% discount | 6 or more 20% discounts | For more information, contact
[email protected]

---
SCHEDULE
Wednesday, November 2, 2022  10:00 AM ET - 3:00 PM ET
Transformative Value for Integrated Diagnostics and the Case for Digital and AI
10:00 am - 10:15 am

Greetings from the University of Pennsylvania hosts
David B. Roth, MD. PhD


Mitchell Schnall, MD, PhD




10:15 am - 10:50 am 

Strategic direction of digital pathology and AI


S. Joseph Sirintrapun, MD




10:50 am - 11:00 am 

Q & A

11:00 am - 11:35 am

RadPath Integrated Diagnostics – A win-win at UPenn and a win-win for you


Michael Feldman, MD,  PhD




11:35 am - 11:45 am

Q & A

11:45 am - 12:00 pm

Break

12:00 pm - 12:30 pm 

Platinum Vendor Sectra Presentation
Bridging Digital Pathology and Genomics
Fredrik Lysholm, PhD, General Manager Genomics IT



12:30 pm - 12:40 pm

Break to switch Zoom Sessions

12:40 pm - 1:10 pm

Platinum Vendor Gestalt Presentation
ROI or Benefits?  How do you measure the successful implementation of Digital Pathology and AI?
Lisa-Jean Clifford, COO & Chief Strategy Officer



1:10 pm - 1:20 pm

Break to switch Zoom Sessions

1:20 pm - 1:55 pm    

The business argument for going digital


Sam Terese, MBA, MT(Alverno)




1:55 pm - 2:05 pm

Q & A

2:05 pm - 2:40 pm

OSU Digital Pathology – How it started and where it is going


Anil Parwani, MD, PhD




2:40 pm - 2:50 pm

Q & A

2:50 pm - 3:00 pm

Adjournment
Thursday, November 3, 2022  10:00 AM ET - 3:00 PM ET




Operations from multiple perspectives with making digital, AI, and integrative diagnostics work in practice
10:00 am - 10:35 am 

Digital Pathology implementation at Mount Sinai


Mehrvash Haghighi,  MD




10:35 am - 10:45 am 

Q & A

10:45 am - 11:20 am

The MSKCC experience with whole slide imaging


Orly Ardon, PhD, MBA




11:20 am - 11:30 am

Q & A

11:30 am - 12:00 pm 

Break

12:00 pm - 12:30 pm 

Platinum Vendor Proscia Presentation
Pathology meets enterprise imaging: Considerations for integrated diagnostics
at scale
Nathan Buchbinder, Chief Product Officer, Proscia
Marcus da Silva, Siemens Healthineers



12:30 pm - 12:40 pm

Break to switch zoom session

12:40 pm - 1:10 pm

Platinum Vendor Leica Presentation


Are you digital ready?  Roadmap to a Successful Digital Pathology Implementation
Mark Frushone, Global Director Commercial Development – Digital Pathology 


1:10 pm - 1:20 pm


Break to switch zoom session

1:20 pm - 1:55 pm    

The UCSF experience with whole slide imaging


Zoltan Laszik, MD, PhD




1:55 pm - 2:05 pm

 Q & A

2:05 pm - 2:40 pm

Digital Pathology and AI: Applications in Urological Pathology
Clare Verrill, PhD

Q &  A

2:50 pm - 3:00 pm

Wrap Up and Adjournment
Friday, November 4, 2022  10:00 AM ET - 3:00 PM ET
AI validation/trust and translational work in integrative diagnostics and how to translate these day 3
concepts practically for a community-based audience
10:00 am - 10:35 am

Validation frameworks and integrating future AI tools into practice


Matthew Hanna, MD




10:35 am - 10:45 am 

Q & A

10:45 am - 11:20 am

Integrated diagnostics and federated learning


Spyridon(Spyros) Bakas, PhD




11:20 am - 11:30 am

Q & A

11:30 am - 12:00 pm 

Break and switch Zoom sessions


12:00 pm - 12:30 pm 

Vendor Roundtable
All Vendors


12:30 pm - 12:45 pm

Break and switch Zoom sessions

12:45 pm - 1:20 pm    

Personalized Integrative Medicine – The Stanford Experience


Mirabela Rusu

1:20 pm - 1:30 pm

Q & A

1:30 pm - 2:05 pm

The future of integrative/multi-modal diagnostics through AI/ML


Anant Madabhushi, PhD




2:05 pm - 2:15 pm

Q & A

2:15 pm - 2:30 pm

Adjournment   - Joseph Sirintrapun and Michael Feldman



| | |
| --- | --- |
|         | CME ACCREDITATION STATEMENT: This activity has been planned and implemented in accordance with the accreditation requirements and policies of the Accreditation Council for Continuing Medical Education (ACCME) through the joint providership of the University of Michigan Medical School and the Association for Pathology Informatics. The University of Michigan Medical School is accredited by the ACCME to provide continuing medical education for physicians. The University of Michigan Medical School designates this Live Activity for a maximum of 12.50 AMA PRA Category 1 Credit(s). Physicians should claim only the credit commensurate with the extent of their participation in the activity. |