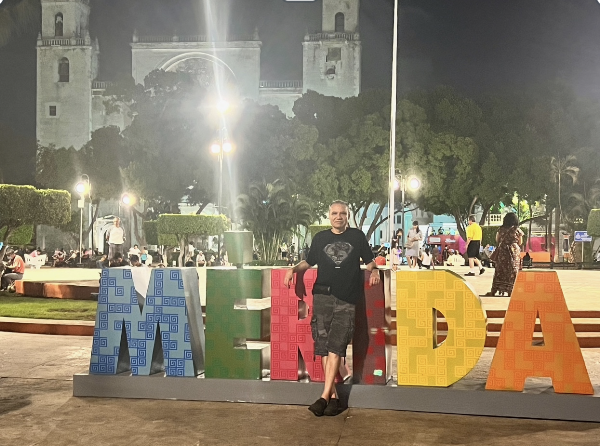 Celebrating Hispanic Heritage Month!
"In-Person" with Dr. Enrique Terrazas
API Treasurer and Chief Laboratory Officer of Quest Diagnostics...
(Interviewed by Grace Chae, API Executive Assistant)
I first met Dr. Enrique Terrazas on a General Council Zoom call just after joining the team at the Association for Pathology Informatics. My first impression was how funny and soft-spoken he was and how short he must be in-person (it was the camera angle). It was at our first return to in-person meeting at PI Summit 2022 in Pittsburgh that I not only realized how tall he is, but that he is also the Chief Laboratory Officer for all of Quest Diagnostics, which, according to its website, touches 1 in 3 adults in the United States! That is a lot of lab tests! 

I had the pleasure to interview Enrique in recognition of Hispanic Heritage Month and learn more about his professional and personal journey and what it means for him to be where he is, today:
Grace: Enrique, thank you for taking some time in your busy schedule to speak a little bit about your professional and personal journey into pathology informatics. Can you tell me what drew you to this field?
Enrique: My experiences as a resident in Pathology at UCSF drove my interest in informatics, specifically my on-call activities as a CP resident. While discussing appropriateness of blood product requests and other testing issues, it occurred to me that information presented at the time of ordering, including historical testing results and threshold for blood product administration, could better guide clinicians and reduce later retrospective review and approval. This provided the motivation to do an NLM fellowship in informatics and develop a proof-of-concept web-based laboratory order entry system. The fellowship was a great learning experience. For my project, I developed HL7 results and ADT interfaces, and used this information to populate an Oracle database that I designed. I then built a web front end to enter orders and display graphical information and ordering alerts.
Grace: For me, as a Korean-American, my parents' stories growing up in South Korea and their respective journeys as first-generation immigrants informed a lot of my worldview and choices in life. In what ways did your Hispanic heritage impact your own professional path?
Enrique: My Hispanic heritage provided the initial motivation to go to medical school. I grew up in East Oakland, CA and experienced health care in an underserved community. I saw the need for Spanish speaking physicians who could deliver culturally appropriate care. Little did I know that along the way, my journey would involve a few pivots as I gained experience and knowledge of the many opportunities that exists within medicine. I am far from my initial goal, but I do have to say that the journey itself was exciting and fulfilling.
Grace: As is well known, representation is immensely powerful not only from an advocacy standpoint, but also for the generations following us to see people who look like them in decision-making positions. Firstly, can you share with us what it was like for you to enter the profession at the time you did? What kind of support did you discover along the way? Who were your mentors or "heroes?"
Enrique:  I completed my fellowship at an exciting time – in 2000, the same year that API was founded. Bruce Friedman and Mike Becich were the driving forces for founding API and elevating the visibility of pathology informatics. I drew a lot of inspiration from them. Wally Henricks was very involved in the fellowship program and provided much guidance and support for me. I was appointed to the CAP informatics committee as a resident member and later after my fellowship. Ul Balis and others on the committee were great mentors for me. Linda Ferrell and Henry Sanchez at UCSF were two pathologists that inspired me to look at pathology as a career and provided me a great deal of support during my residency training. Tim Hamill was a great mentor for me for my clinical pathology training.
Grace: As someone who is now in that visible 'decision-making' position, how do you understand the legacy you are forging for young pathologists on the rise?
Enrique: It is important to remain focused on quality and transparency of decision-making. Physicians need reliable and accurate results in order to make appropriate patient care decisions. Laboratories need to make quality a priority and look for ways to provide value to physicians.
Grace: In what ways do you think pathology informatics could be more engaged with issues of representation for the Hispanic community? What kind of changes are you seeing and what more would you like to see?
Enrique: There are many ways to leverage informatics to ensure representation. One critical area is to ensure that pathology informatics systems collect and store diverse data, including ethnic and racial identifiers. This can help in identifying health disparities and help ensure that the Hispanic community's unique healthcare needs are adequately addressed. Another important area is to leverage informatics to provide telemedicine services and remote monitoring solutions that are accessible to the Hispanic community, especially in underserved areas. These services need to be available in Spanish and user-friendly. Informatics can also assist in conducting research on health disparities within the Hispanic community, especially for diseases that disproportionately affect them. Data analysis can help identify areas that need more attention.
Grace: For my final question, how do you recognize Hispanic Heritage Month - do you do something special or is it in the 'everyday' of living life for you?
Enrique: I participate in events at Quest Diagnostics and local celebrations and wear clothing that celebrates my heritage. My parents made a lot of sacrifices and gave a lot effort to give me and my siblings the opportunities that we have enjoyed. I am deeply indebted to them. I am also grateful for the rich heritage that I inherited from them.
Grace: Enrique, I would like to thank you so much for your time and insight in helping me recognize and honor the role and significance of the Hispanic community in the foundation and continuing formation of American society and the specific work you do in the medical community to improve patient care and safety. And, of course, thank you for your dedication to API as Treasurer and ad-hoc 'Happy-to-help-support-anytime!'-Helper! Thank you!"

Be sure to say "Hello" to Dr. Enrique Terrazas at our next PI Summit 2024, May 20-23 in Ann Arbor, MI at Eagle Crest Resort!